S.K.I.L.L. THIS JUNE: GUN GLUT AND A WAVE OF CAMO IN SUMMER
27.06.2017
Top up your arsenal today!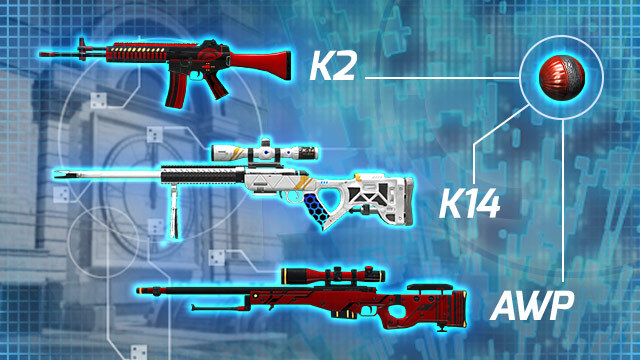 Soldiers,
Summer is here and it is time for a new coat of paint. But we don't mean your walls, it's your guns we're talking about! Additionally some of you are to be dispatched to lofty heights – but that doesn't mean that you won't be able to lie back and take it easy this summer.
NEW VIP MAP: SKYWALKER
The battle zones in the sky kingdom are just as deadly as those of the ground. Make clever use of the floating lanes and bridges to earn a tactical advantage. Some advice from command: don't look down.
ADDITIONAL MODE FOR 'OFFICE' MAP
The 'Office' map is now available for the AI mode Team Death Match.
ORGELBOX: K14 Blaster
The K14 Blaster sets new standards as far as sniper rifle firepower and destructive force are concerned. The latest discoveries in metalworking have also helped the K14 to cut a fine figure.
Orgelbox: ESL PRO LEAGUE COLLECTION
Head into battle with pro team weapons! The ESL Pro League Orgelbox gathers some of the most popular weapons of the winning teams.
ORGELBOX: SP SUMMER BOX
Summer is here and it is time to gear up accordingly! You'll find some suitably light weaponry and matching camouflage in the SP Summer Box.
Adeptly deceive and disguise
A good camouflage is half the battle! The shop has a range of new camos for your weapons. Additionally the highly effective assault rifle, the T65 K2, which impresses with its high penetrative force, is now in stock. Do you have a penchant for the rough and explosive? Then get yourself the Keltec KSG shotgun and blast through everything that stands in your way.
As always, you can read the full details in the forum.
Keep up to date with the latest news by following us on Twitter as well as Facebook.
What are you waiting for – arm up and ship out!