S.K.I.L.L. THIS MAY: HEAD INTO THE ARCADE AND PRESS FIRE
23.05.2017
Arm up and test your skills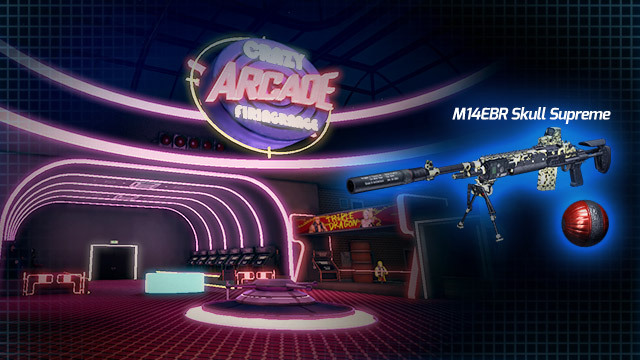 Soldiers,
Assault rifles and other cool weapons, wherever you look: extend your collection with some real gems! For those of you after variety, you'll get plenty bang for your buck!
ARCADE MODE
Guns Panic or perhaps instead Triple Dragon? Test and train your skills in the new single player mode, Arcade, in the game machines of the 'Crazy Arcade'! There's also a few challenges, sometimes even with a special feature. Arcade is now available to all players.
NEW ORGELBOX: SKULL SUPREME
Are you a fan of the Skull Supreme? Then check out the orgelbox M14EBR Skull Supreme – available from today in the shop. Firstly, you can win the legendary M14EBR Supreme as a main prize (not just as a special prize!), and it is available as the extraordinary and deadly Skull version.
ORGELBOX: FIREPOWER
Want more orgelboxes? You got it! Get lucky and get yourself the M4A1 IcePhoenix or the FAMAS Reflex Pixel – both popular classics amongst the assault rifles.
COOL WEAPONS IN THE SHOP
We have two new weapons fresh from the forge: the FN F2000 is a compact assault rifle which is smooth, edgeless and handles superbly, even when firing. The M92FS Dual Pistol on the other hand is a real classic: the modernised semi-automatic has a double-rowed magazine as well as a double action trigger, freeing its use immediately after safety release.
SPRAYMANIA
Treat yourself to some variety with the Delta and GAFE sprays – now in the shop!
EVENT BOOST
Join in and earn rewards: we've got some exciting events in store for you!
As always, you can read the full details in the forum.
Keep up to date with the latest news by following us on Twitter and Facebook.
What are you waiting for – arm up and ship out!