NEW IN MARCH: MAPS, MERCS AND EQUIPMENT
14.03.2017
Things are speeding up this Spring!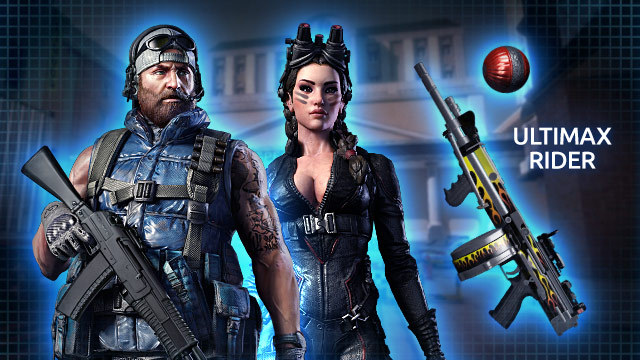 Soldiers,
New mission locations demand quick reactions and decisions! Don't worry though, we're providing suitable gear and heroes.
VIP MAP: BANK
Vehicle blockades and a hotly contested building laden with gold: 'Bank' can now be hosted by VIPs and is available in the Seizure mode.
CONTESTED RUINS
The Ancient Ruins map is now available to all players.
NEW MERCENARIES
No matter if Veteran Max or the Night Fox, the lady with night vision, these two mercs not only deliver hotly fought battles but also bring an XP and SP boost.
MORE FIREPOWER
This time around we've got two weapons for you: grab the AK104 Tactical assault rifle or pick up a cool variation of a popular shotty in the M870 Sawed-Off and be certain that you are ready to deploy.
M4A1 STAR ALL IN ONE ORGELBOX
The M4A1 Star All in One orgelbox is now in the shop: a set of M4A1 variants. No matter if Mars, Mercury, Venus or even Uranus, every model has a particular set of skills regarding damage, weight, magazine size or fire rate.
ULTIMAX RIDER ORGELBOX
This new orgelbox introduces a light submachine pistol with high accuracy alongside the Ultimax Rider.
EVENT BOOST
Join in and earn rewards: we've got some exciting events in store for you!
As always, you can read the full details in the forum.
Keep up to date with the latest news by following us on Twitter and Facebook.
What are you waiting for – arm up and ship out!