NEW THIS FEBRUARY: ARMOURY
14.02.2017
New Blasting map, the 'Armoury' and the 'MP7A1 Naga' now available.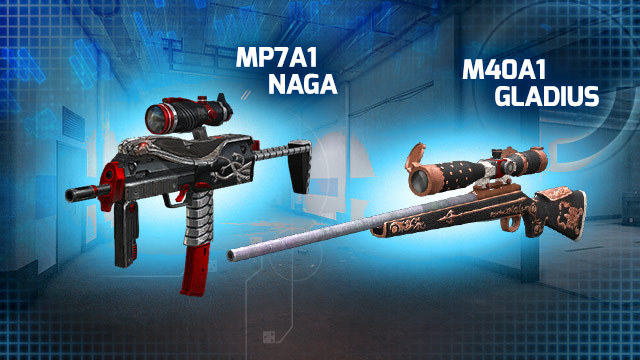 Soldiers,
It's time to stock up your arsenal - not only are there new deployment locations waiting for you, there's also some hot new equipment.
NEW VIP MAP: ARMOURY
A new Blasting map can now be hosted exclusively by VIPs: the 'Armoury'.
ADDITIONAL MODE FOR 'OFFICE' MAP
The 'Office' map is now available for the AI mode Team Death Match.
SPECIAL ORGELBOX: GLADIUS COLLECTION
Can't get enough of the Gladius series? Us too! For this reason, there's a special offering now available: the Gladius Collection. It contains the FAMAS Gladius, the M4A1 Gladius, the G36C Gladius and the brand new M40A1 Gladius.
MP7A1 NAGA
Arm up with the highly efficient assault rifle, the MP7A1 Naga! You can buy this solid firearm in the capsule market. It heralds from Germany and is considered as the new generation of high performance submachine guns. Its low weight makes the MP7A1 Naga the ideal backup weapon.
THERE'S MORE - THE FOLLOWING ORGELBOX NOW IN THE SHOP: - SP Spring Orgelbox (including the EOTech and OpenDot variations of various weapons)
CLEAN UP IN OUR EVENTS
Over the next 2 weeks we'll be starting up some events that can earn you some serious rewards.
Changelog in the forum
As always, you can read the full details in the forum.
Keep up to date with the latest news by following us on Twitter and Facebook.
What are you waiting for – time to fight!