HAPPY HALLOWEEN!
28.10.2016
The zombies are back! In time for Halloween there's 2 new zombie maps, a Halloween weapon, a gruesome soldier and a feminine Desert Eagle.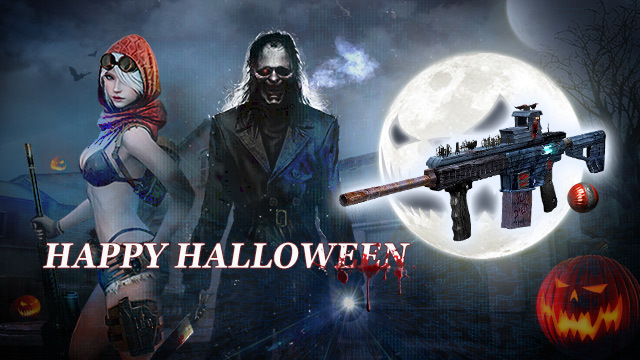 Attention soldiers,
Check out the treats this Halloween! In time for the most ghoulish night of the year we have 2 new zombie maps including a new mode, 1 Halloween Orgelbox and 2 new mercenaries!
Look forward to an explosion of in-game events. 
Here's an overview of all that's coming:
MAPS
The zombies are back. This time around you can go up against the hordes in 2 new maps.
Quarantine - Zombie Hunt
New map 'Zombie Hunt' is available exclusively to VIPs in the new 'Quarantine' mode. Decide between being a zombie or a human. Who do you wish to play as to ensure that you overwhelm your enemy?
DEATH ROUND: FOGGY FARM
The map 'Foggy Farm' is available to all users. As the name suggests, there's a fair amount of mist in play: be sure to have a flashlight with you to keep a clear view of proceedings.
Orgelboxes
HK417 Haunted
The HK417 Haunted orgelbox contains all kinds of camo sprays, masks and other items that are perfect for Halloween.
MAPLE FX SP BOX
The Fall Collection: there's 6 weapons with the unique Maple FX Camo, available for SP.
2 NEW Mercenaries in the SHOP
Reaper (Bundle Exclusive)
Ready for Halloween: the 'Reaper'! This gruesome mercenary is only available in this bundle, complete with bloody knife and a helpful flashlight for the 'Foggy Farm' map. The Reaper offers a 40% boost on earned experience points and 40% more SP. It is also only available for a limited period of time.
Scarlet
Male Desert Eagles are yesterday's news! Here's Scarlet. Get the female sniper mercenary 'Scarlet' now - she's only here for a short while! For the price of 249 CASH she gives you a 40% boost on earned experience points and 40% more SP. She is also only available for a limited period of time. 
In-game Event: 
FIREWORKS 
We've got a veritable explosion of in-game events coming in celebration of the start of the North American version of S.K.I.L.L. - Special Force 2. There's 2 kinds of daily events and also some great prizes to help sweeten your time in-game between the 26th October and the 1st November!
NEW SP WEAPON
The TRG is now available in the SP Shop!
Change Log in the Forum
As always, you'll find all further details in the forum.
If you want to be sure you always have the latest news, follow us on Twitter as well as Facebook.
What are you waiting for – to battle!