ALL YOU NEED TO KNOW ABOUT S.K.I.L.L.'S JUNE UPDATE!
24.09.2014
New for June: two Blasting maps, a weapon, four orgelboxes and a huge selection of new items!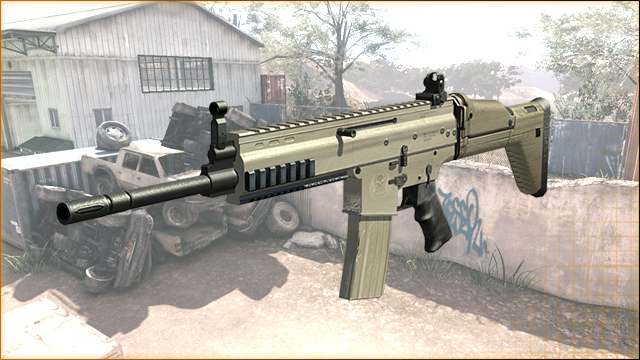 Soldiers,
This update has loads of new content – we told you about the four new orgelboxes yesterday and now comes the scoop on the rest!
Two new Blasting maps
Just in time for the start of the S.K.I.L.L. ESL Euro Series with €10,000 prize money there are two new Blasting maps: Workshop and Ghost Town!
Both maps have a very challenging and complex layout – for this very reason we are certain that they will both soon become S.K.I.L.L. favourites.
New to the shop: SCAR-L
The SCAR-H's 'little brother' is here to complete the family in the shop! It may deal a slightly less damage, but with five more shots in its magazine and a much lighter weight, it is the perfect weapon for all who like to charge forwards.
Ready for the football world cup and S.K.I.L.L. Country Championship: shirts, camo sprays and wall sprays!
Whilst the football world cup draws the attention of many in the 'real world', in S.K.I.L.L.'s ESL showing there will be the 'S.K.I.L.L. Country Championship'. No matter whether you prefer to support a football team or a S.K.I.L.L. team – we have the ideal items for you:
18 t-shirts in the design of various European national teams!
18 flag wall sprays in one handy pack!
2 camo sprays: one in the design of a football and one in the design of a football pitch!
1 pair of goalkeeper's gloves
All of these are naturally available both in the 30 day and permanent versions as usual.
S.K.I.L.L. ESL Euro Series Shirt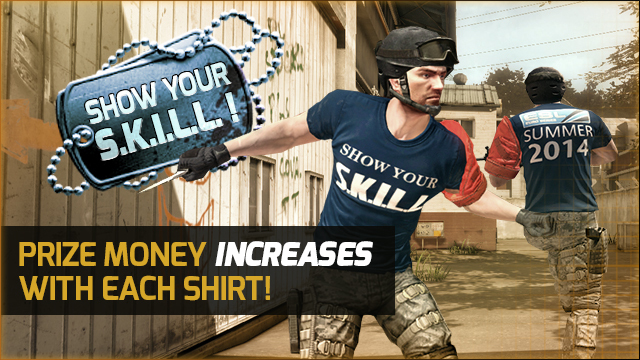 Starting today you can also show your support for the Euro Series: the cool and unique shirt is available from today for a limited time (but at least until the start of the play-offs) in the shop. For every purchased shirt the prize money for the Euro Series will be increased by €1: it's your chance to actively contribute to S.K.I.L.L.'s eSports scene!
Clan-Matchmaking
The first room in the clan channel is now a matchmaking room, in which you can automatically find opponents. This feature is still in its open beta phase – please help us to test it out extensively by playing as many clan matches as possible and by reporting all and any problems or errors to our Support team! There'll be a further news post on this topic in the coming weeks, with more details on the matchmaking system and also a short tutorial!
VIP level markers
Another step forwards in the improvement of the VIP status: we have flipped the order. Instead of sinking from VIP level 5 down to VIP level 1, you now start at VIP level 1 and rise. The highest VIP level that you can currently reach at the moment will then be VIP level 5. This way the VIP levels match up better with the rank, which also starts from 1 and rises. Note: this is just a name change: your points score and the weapons that you have unlocked will not have changed in any way.