NEW ORGELBOXES IN THE JUNE UPDATE
24.09.2014
New in the shop with the June update: M14 EBR Venom, MG4 Black Widow, Arctic Circle eSports and the Camo Spray All-in-One!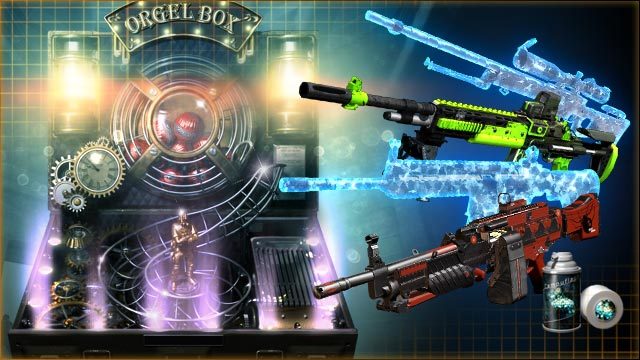 Soldiers,
The next update is readying up and here we have the inside scoop on our four new orgelboxes!
M14 EBR Venom
It is poisonous green and has an amazingly good rifle control – in our internal tests, one phrase was heard more than the others: 'this weapon is a beast!'
MG4 Black Widow
Just like the bite of its namesake spider, this machine gun is able to take out multiple enemies with a hit!
Arctic Circle eSports
This orgelbox is something very special: even though it is a summer heatwave outside, it is important to keep a cool head in eSports (for example, in the ESL Euro Series, where the prize money is €10,000). Staying cool is now easier than ever thanks to the HK417 Frozen, AWP Frozen and the SCAR-L Frozen – they look like they have been freshly cut from a glacier! So that these weapons meet the strict requirements of S.K.I.L.L.'s eSports in the ESL, they are otherwise identical to the standard versions of the HK417, AWP and SCAR-L. This orgelbox also contains even more Aurora weapons, which means that the Aurora Camo Spray is already permanently attached to the weapon. This makes the box even more of an exclusive, considering that the permanent version of the Aurora Spray is not otherwise available in the shop. Best of all? These weapons also meet the rules set out by the ESL!
Camo-Spray All-in-One
For all soldiers that have had enough of standard-looking weapons, in this box there is an exclusive (absolutely only in this box!) four FX Camo Sprays which simply look amazing: Fissure FX, Giganteus FX, Silver Lightning FX and Golden Lightning FX! And for those of you that think this isn't enough: there's five more non-FX Sprays also inside: Fissure, Giganteus, Amethyst, Shattered Glass and Black Ice! The best part of this? In this box there is also the chance that you will get permanent versions of these nine Camo Sprays!